Recipes
Pomegranates are a great addition to fruit salads, savoury salads and omelettes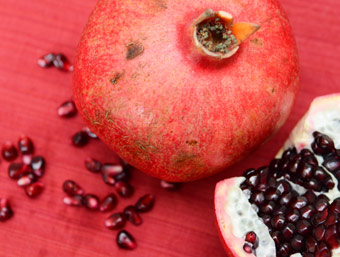 Products
Our pomegranates are locally grown and are a great source of daily nutrition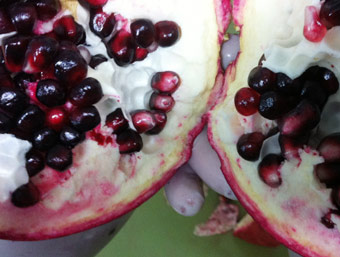 Contact
If you would like to enquire about any of our fantastic pomegranate products, just get in touch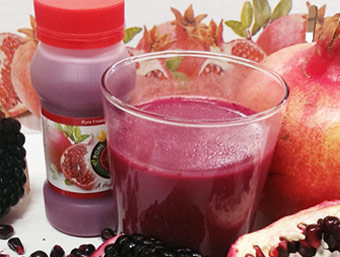 Pomegranate Molasses

Time to prepare:

Prep time 15 mins. Cooking time 1 hour.
Ingredients
6 x 150ml bottles PomiGold frozen pomegranate juice
½ cup white sugar
½ cup lemon juice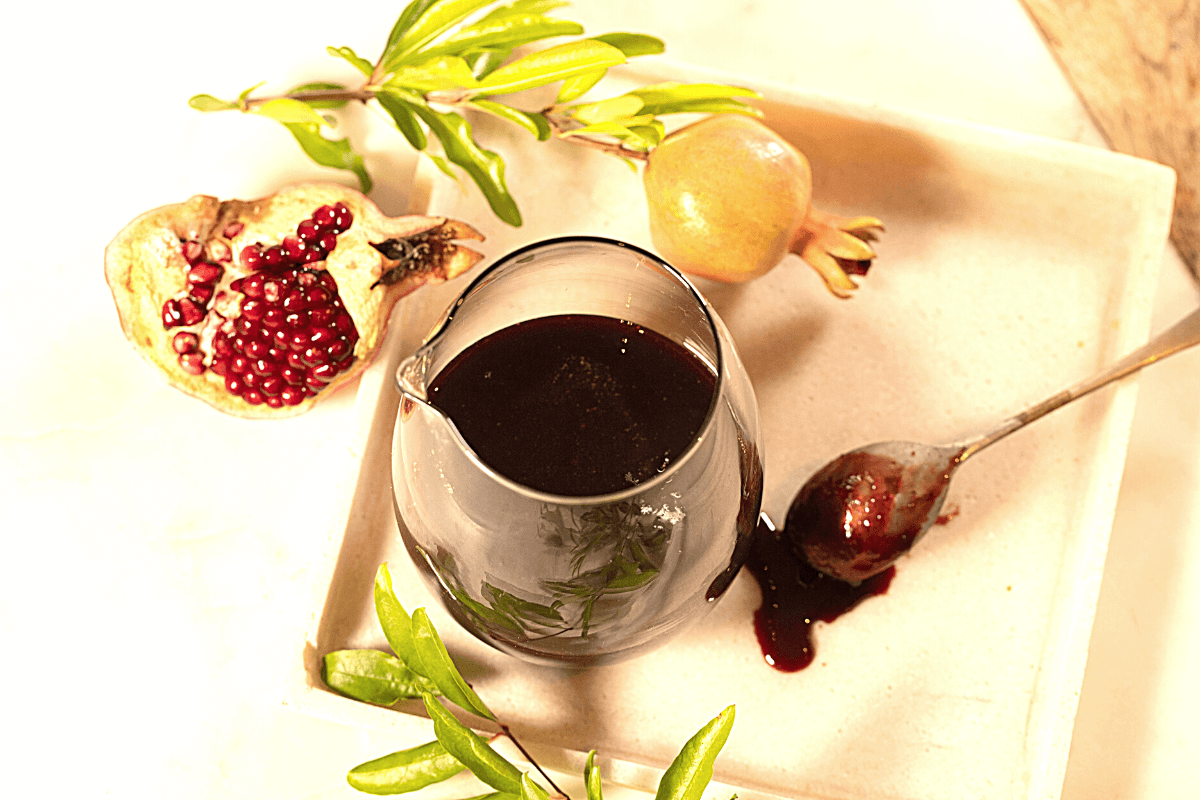 Instructions
Defrost the juice.
Strain the juice through a sieve lined with muslin or a new chux cloth. Allow the juice to drip through, do not be tempted to squeeze, as this will result in a cloudy molasses.
After the juice has drained, place in a large saucepan with the sugar and lemon juice.
Bring juice, sugar and lemon juice to the boil, reduce heat and simmer for approximately 1 hour. During the cooking time, skim the surface to remove any scum that appears.
Stir frequently to avoid burning.
When reduced by half, remove from heat, allow to cool, store in a sealed container in the fridge ready to use.
** Pomegranate molasses has many uses and applications – glazing meat, fish and vegetables, braising, roasting, drizzled over soft cheese, added to salad dressings, added to breakfast bowls and served with pancakes.
Pomegranate & Miso Glazed Kingfish

Time to prepare:

Prep time 10 mins. Cooking time 15 mins.
Ingredients
1.5 kg whole Kingfish, fillets removed and pin boned
Pomegranate and miso glaze
50ml PomiGold frozen pomegranate juice
5 tbsp red miso paste
2 tbsp sesame oil
3 tbsp brown sugar
1 tbsp ketjap manis
zest and juice of 1 lime
salt to taste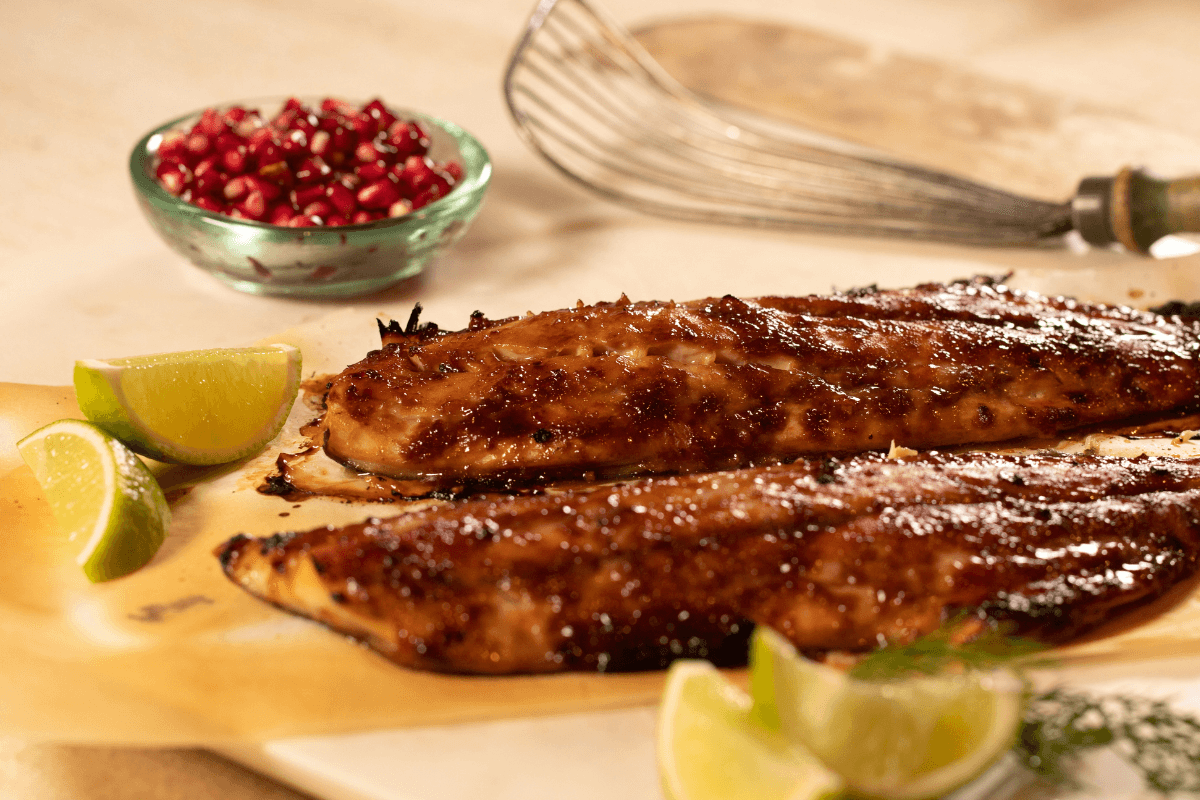 Instructions
Mix pomegranate juice, red miso paste, sesame oil, brown sugar, soy sauce, ketjap manis, lime zest and juice together. Season to taste with salt.
Line a large baking tray with baking paper, place kingfish fillets, skin side down onto baking tray.
Generously brush kingfish with pomegranate and miso paste, allow to rest in refrigerator for 15 minutes or till ready to cook.
Brush kingfish fillets again with pomegranate and miso paste again before placing in oven.
Bake for 10-15 minutes, brushing with paste every 5 minutes.
Remove from oven and brush the cooked kingfish with any remaining paste.
The kingfish can be served hot or cold.
Serving suggestion: Ancient grain and pomegranate salad.
Sticky Pomegranate Chicken Wings

Time to prepare:

Prep time 10 mins. Cooking time 20 mins.
Ingredients
12 organic chicken wings
parsley leaves to garnish
Marinade
¼ cup olive oil
½ cup pomegranate molasses – see recipe above
2 cloves garlic, crushed
2 tsp sea salt
freshly cracked black pepper to taste
2 tsp ground cinnamon
½ tsp ground nutmeg
½ tsp dried chilli flakes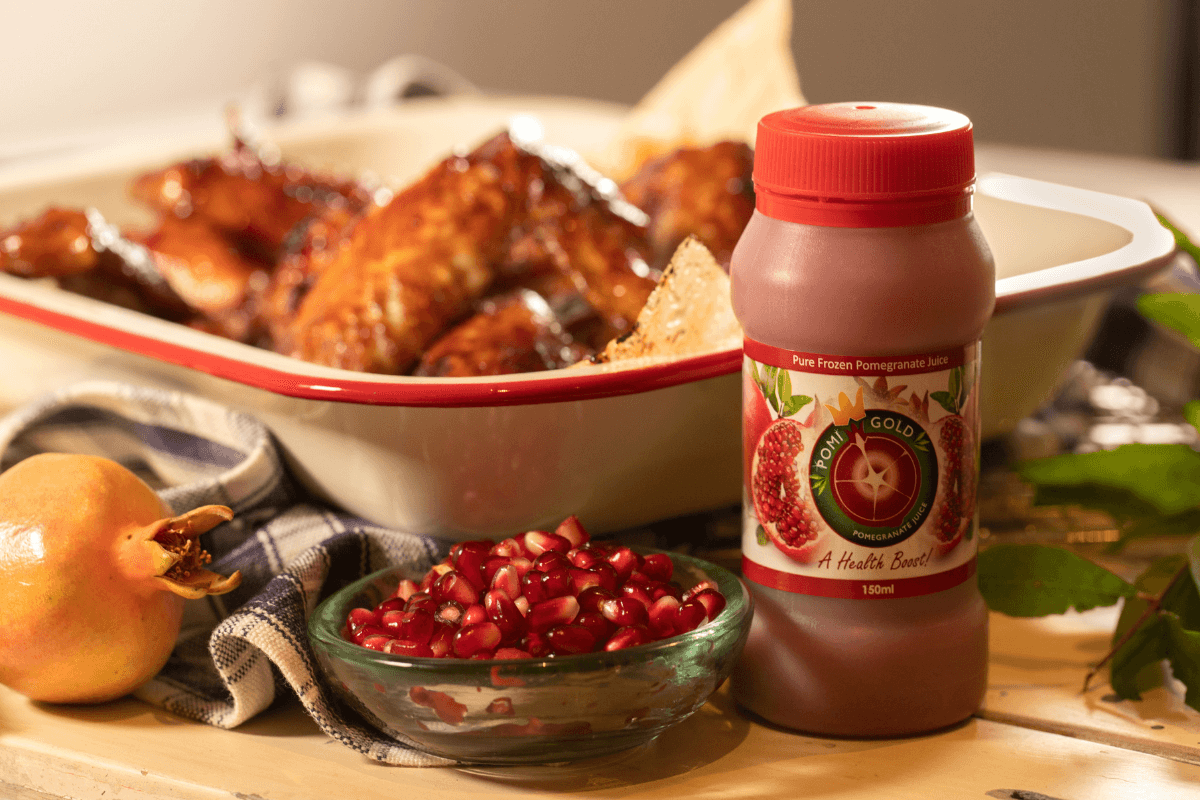 Instructions
Mix all the marinade ingredients together.
Place the wings in a large bowl and add the marinade, using clean hands mix and massage the marinade through the wings. Cover and refrigerate over night or 1 hour minimum.
Ready to cook – preheat oven to 180°C.
Line a baking tray with baking paper, place marinated wings in a single layer on the tray.
Bake in preheated oven for 12-15 minutes. To achieve a more toasty charred result turn on oven grill and cook wings for a further 5 minutes.
Keep your eye on wings so as not to burn.
Serve with spicy dipping sauce.
Spicy dipping sauce
1 cup sour cream
2 tbsp red Sriracha sauce
1 tbsp pomegranate molasses
juice of 1 lime
salt and pepper to taste
Mix all ingredients together.  Serve in a side bowl with chicken wings for dipping.
Lamb, Pistachio and Pomegranate Kofta

Time to prepare:

Prep time 20 mins. Cooking time 10 mins.
Ingredients
750g minced lamb
½ brown onion, peeled and finely diced
¼ cup fresh mint leaves, finely chopped
½ cup PomiGold pomegranate juice
2 tbsp brown sugar
3 tbsp toasted pine nuts
3 tbsp chopped pistachio nuts
salt and pepper to taste
1 tsp ground cumin
1 tsp ground cinnamon
½ tsp sumac
extra mint leaves, pomegranate arils and pine nuts to garnish
200g hummus, to serve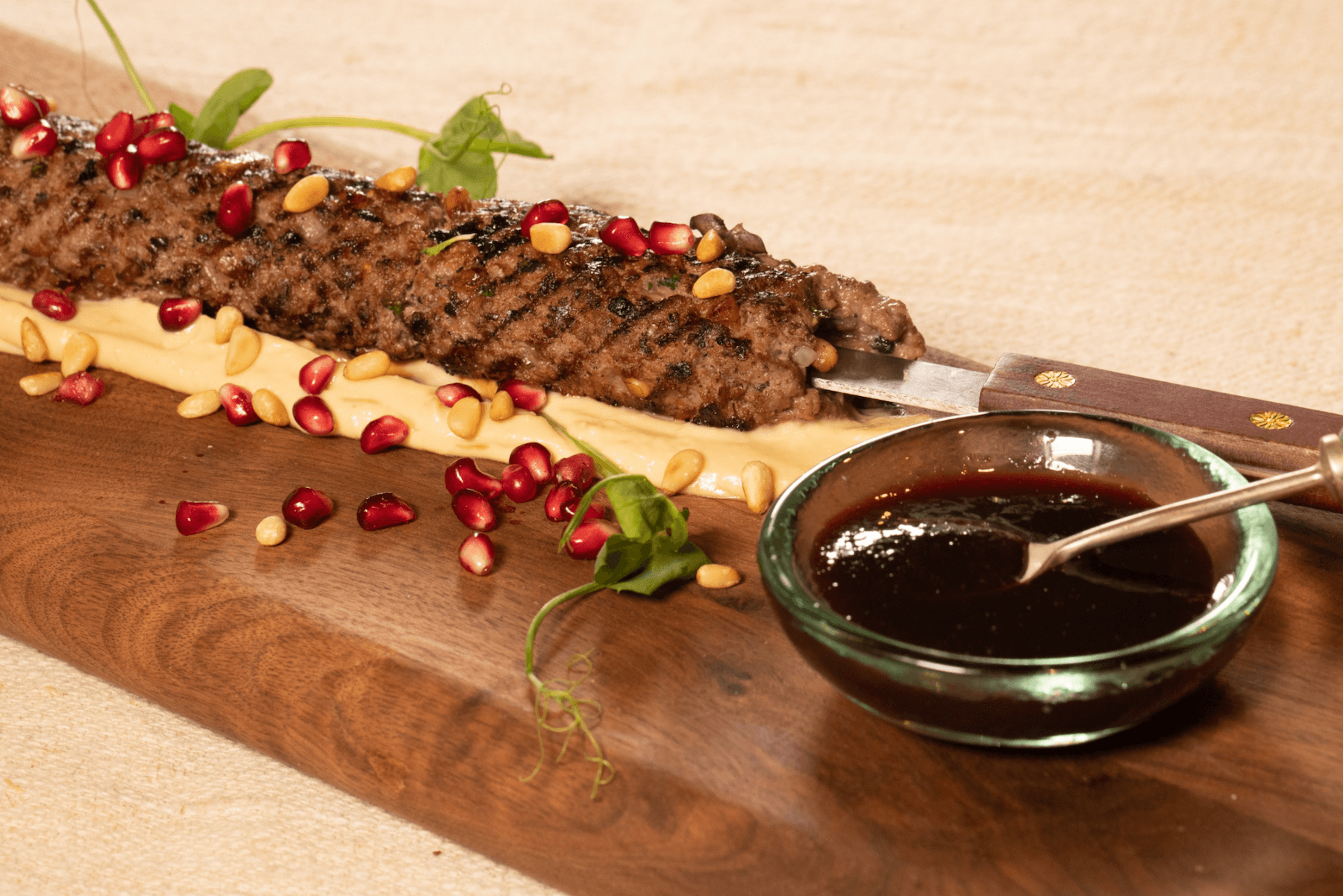 Instructions
Place all the kofta ingredients in a large bowl and mix together using clean hands. Work the mixture until it holds together.
If using traditional long metal skewers, form the lamb mixture along the skewer to cover most of the metal.
Alternately, shape into 12 small sausage shapes.
Cover with plastic wrap and refrigerate for up to 24 hours.
Prepare bbq or griddle, cooking koftas over med-high direct heat, 200-220°C.
Cook till golden, gently turning, for about 10 minutes.
Spread hummus onto serving plate or board. Top with kofta, garnish with mint leaves, pomegranate arils and a drizzle of pomegranate molasses (recipe above).
Red cabbage braised pomegranate juice

Time to prepare:

Prep time 10 mins. Cooking time 50 mins.
Ingredients
½ red cabbage, cut into 6 wedges
2 tbsp olive oil
2 red onions, peeled and sliced
2 granny smith apples, peeled, cored and finely diced
1 tsp ground cinnamon
¼ cup brown sugar
100ml PomiGold pomegranate juice
salt and white pepper to taste
Instructions
Preheat oven to 170°C.
Using an ovenproof pan, heat the olive oil, gently sauté red onion and apple to soften.
Sit the wedges of red cabbage in the pan, adding the remaining ingredients.
Cover with a piece of baking paper, then place the lid on or cover tightly with foil.
Bake for 50 minutes; check the cabbage should be tender and juicy.
Serve as a side dish with lamb, duck, corned beef or kangaroo.
Pomegranate, ancient grain and chickpea salad

Time to prepare:

Prep time 20 mins. Cooking time 30 mins.
Ingredients
200g pkt ancient grains freekah mix
1 x 400g can chickpeas, drained and rinsed
4 spring onions, finely sliced
½ cup Pomi Gold pomegranate arils
½ cup fresh mint leaves
½ cup fresh parsley leaves
3 tbsp chopped pistachio kernels
1 Lebanese cucumber, seeds removed and diced
salt and pepper to taste
Pomegranate Vinaigrette
150ml Pomi Gold pomegranate juice
4 tbsp olive oil
2 tbsp red wine vinegar
¼ cup Pomi Gold pomegranate arils
1 tsp caster sugar
salt to season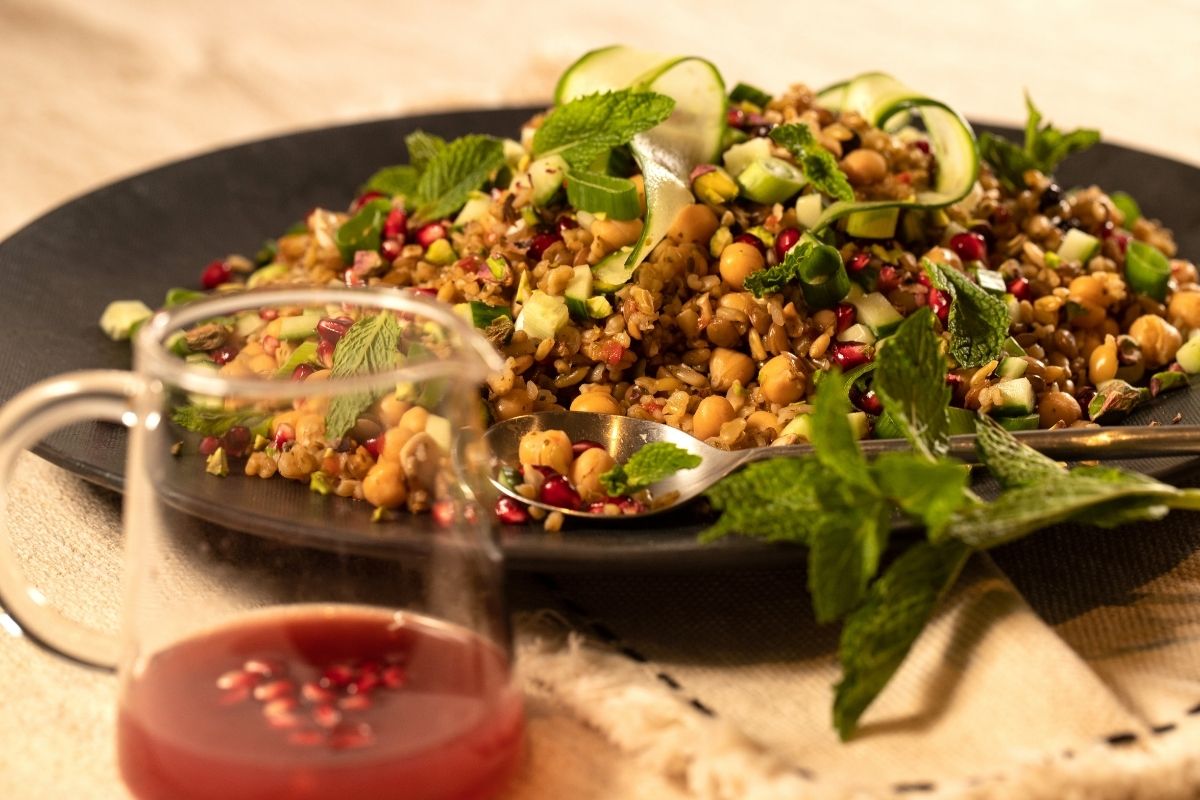 Instructions
Cook ancient grain freekah mix as directed on packet. Drain, mix with prepared chickpeas.
When the grains are cool, mix together with spring onions, pomegranate arils, mint, parsley, pistachio and cucumber.
Reserve a little of each ingredient to garnish at serving.
Season to taste.
Place the vinaigrette ingredients in a screw top jar and shake to combine. You can use a fork to slightly crush the arils to release some juice.
When ready to serve, dress the salad with a little vinaigrette, serving the remaining dressing in a jug on the side.
Scatter reserved ingredients to garnish.
** Ancient Grains Freekah mix is available in supermarket and specialty stores, found in the health food section.