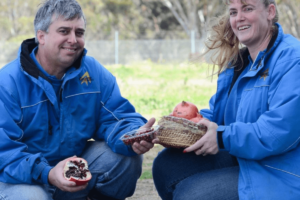 POMIGOLD is a family-owned business, we take pride in growing the best pomegranate fruit we can to give our customers and producing the highest quality juice filled with all the health benefits pomegranates offer.
POMIGOLD was founded in 2006 with the import of our first pomegranate tree cuttings. We lovingly nurtured them through good days and bad days to produce the bountiful fruit trees we have today.
In 2008 we moved our young trees from the nursery to the family farm in Mypolonga, South Australia where they still grow today.
Hand-picked Fruit
Our fruit is hand-picked in April and May and transported to our family factory where it is sorted, packed and stored. It is in this same factory that we de-seed the fruit and produce our cold-pressed pomegranate juice.
The cold-pressing method we use allows us produce our juice using only the pomegranate arils to maintain the sweet flavour of the fruit. Snap freezing our juice straight after production locks in all the nutrients and protects the integrity of our product.